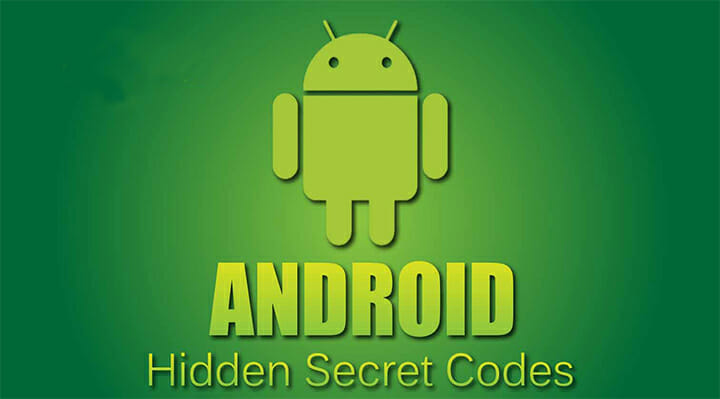 December 4, 2021
Complete list of Android Secret Codes
Hi Folks, In this article you will find the vast majority of the Android secret codes that you can use to access the hidden functions of your device.
Android is a really complete operating system. Although it is easy to use, mainly thanks to its intuitive interface, it keeps a very long list of functions hidden that can only be accessed through secret codes. We must admit that most of Android's hidden options are not useful for the user. Rather, they are intended for repair and support tasks. However, you may want to know some of these secret codes to get the most out of your device or to learn more about it. In this article you will see reflected all the codes that you must know to explore all the corners of your terminal.
How to enter a secret code on my Android?
Before we get to work, we will tell you how to launch the secret Android functions using the codes. All you have to do is go to the phone application.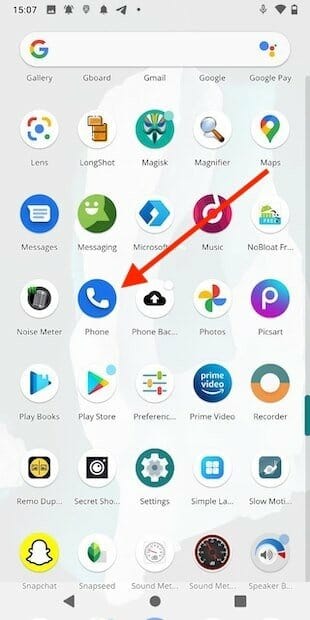 Next, write the code using the numeric keyboard and click on the call button.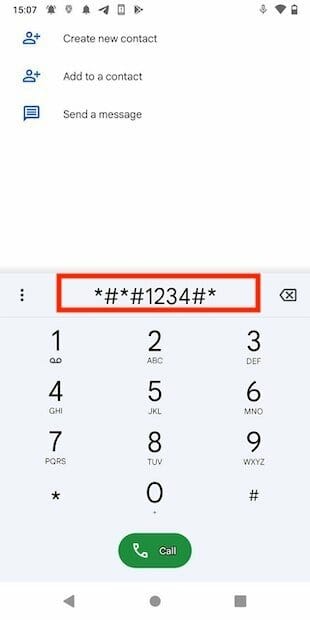 In some cases, the function will run automatically, without the need to press the call button.
Common secret codes for most Android phones
View phone IMEI: * # 06 #
Information menu: * # 0 * #
General information menu: * # * # 4636 # * # *
Camera information: * # * # 34971539 # * # *
TLC software version: * # * # 1111 # * # *
PDA software version: * # * # 1234 # * # *
Software and Hardware Information: * # 12580 * 369 #
View device lock status: * # 7465625 #
View device MAC address: * # * # 232338 # * # *
See touch screen version: * # * # 2663 # * # *
See RAM version: * # * # 3264 # * # *
View the phone's Bluetooth address: * # * # 232337 # * #
See Google Talk status: * # * # 8255 # * # *
View PDA and hardware information: * # * # 4986 * 2650468 # * # *
View FTA information: * # * # 2222 # * # *
View firmware information and changelog: * # * # 44336 # * # *
Back up media folders: * # * # 273282 * 255 * 663282 * # * # *
Test mode: * # * # 197328640 # * # *
Wi-Fi adapter test: * # * # 232339 # * # *
Brightness and Vibration Test: * # * # 0842 # * # *
Touch screen test: * # * # 2664 # * # *
Bluetooth test: * # * # 232331 # * # *
Field test: * # * # 7262626 # * # *
Quick GPS test: * # * # 1472365 # * # *
Full GPS test: * # * # 1575 # * # *
Loopback test: * # * # 0283 # * # *
LCD test: * # * # 0 * # * # *
Audio test: * # * # 0289 # * # *
Approach sensor test: * # * # 0588 # * # *
Diagnostic Settings: * # 9090 #
HSDPA and HSUPA Settings: * # 301279 #
USB input configuration: * # 872564 #
System Dump: * # 9900 #
Show EPST menu: ## 778 and call button
Secret codes for Samsung devices
Show current firmware: * # 1234 #
Diagnostic mode and general configuration: # * # 4636 # * # *
Factory soft reset: * # * # 7780 # * # *
Show product code: * 2767 * 4387264636 #
Service mode main menu: * # * # 197328640 # * # *
Software and Hardware Information: * # 12580 * 369 #
Bluetooth adapter address: * # 232337 #
ADC Read: * # 0228 #
RF band selection: * # 2263 #
Encryption information: * # 32489 #
Diagnostic Settings: * # 9090 #
Test mode for WLAN connection: * # 232339 #
Vibration motor test: * # 0842 #
WLAN MAC address: * # 232338 #
USB I2C mode control: * # 7284 #
Audio Test Mode: * # 0673 #
General test mode: * # 0 * #
GCF Configuration: * # 4238378 #
Real-time clock test: * # 0782 #
Audio loopback control: * # 0283 #
LBS Test Mode: * # 3214789650 #
GPS control menu: * # 1575 #
RIL Dump Menu: * # 745 #
Data creation menu: * # 273283 * 255 * 3282 * #
Proximity Sensor Test Mode: * # 0588 #
Camera firmware update: * # 34971539 #
Light Sensor Test Mode: * # 0589 #
WLAN Engineering Mode: * # 526 #
Debug dump menu: * # 746 #
NAND flash serial number: * # 03 #
Software version Information: * # 44336 #
System dump mode: * # 9900 #
SD card data creation mode: * # 273283 * 255 * 663282 * #
Data usage: * # 3282 * 727336 * #
TSP / TSK firmware update: * # 2663 #
Reassign shutdown to end call TSK: * # 7594 #
Camera firmware menu: * # 7412365 # and * # * # 34971539 # * # *
WLAN engineering mode: * # 528 #
Melody Test Mode: * # 0289 #
OTA update menu: * # 8736364 #
Test history: * # 07 #
HSDPA / HSUPA control menu: * # 301279 #
Quick Test Menu: * # 7353 #
View phone lock status: * # 7465625 #
Automatic answer selection: * # 272886 #
Secret codes for Huawei mobiles
Phone, Usage and Battery Information: * # * # 4636 # * # *
Factory Reset: ## 258741
Test mode: ## 147852
NAM Settings: # 8746846549
RUIM card (personal information about the user): # 8746846549
Hardware Test: ## 5674165485
Enter the service menu: * # 0 * #
Detailed camera information: * # * # 34971539 # * # *
Backup all media files: * # * # 273282 * 255 * 663282 * # * # *
Wireless network test: * # * # 232339 # * # *
Enable test mode for the service: * # * # 197328640 # * # *
Backlight and vibration test: * # * # 0842 # * # *
Test the touch screen: * # * # 2664 # * # *
FTA software version: * # * # 1111 # * # *
Complete software and hardware information: * # 12580 * 369 #
Diagnostic Settings: * # 9090 #
USB registration control: * # 872564 #
System dump mode: * # 9900 #
HSDPA / HSUPA control menu: * # 301279 #
View phone lock status: * # 7465625 #
Show WiFi MAC address: * # * # 232338 # * # *
GPS test: * # * # 1575 # * # *
Secret codes for Sony devices
Information about the phone's operating system and the operator: * # * # 7378423 # * # *
Soundcheck: * # * # 0673 # * # * or * # * # 0289 # * # *
Battery Information: * # * # 4636 # * # *
Factory reset: * 2767 * 3855 #
Backup of multimedia files: * # * # 273283 * 255 * 663282 * # * # *
View the MAC address of Bluetooth devices: * # * # 232337 # * # *
Secret codes for HTC mobiles
RAM version: ## 3264 ##
Show information about phone, battery and usage statistics: * # * # 4636 # * # *
Hardware and software information: * # 12580 * 369 #
Displays compile time and changelist number: * # * # 44336 # * # *
Show the MAC address of the Wifi: * # * # 232338 # * # *
Displays the touchscreen version of the device: * # * # 2663 # * # *
RAM version: * # * # 3264 # * # *
Displays the address of the Bluetooth device: * # * # 232337 # * #
PDA and device firmware information: * # * # 1234 # * # *
FTA software version: * # * # 1111 # * # *
Displays complete information about the device's camera: * # * # 34971539 # * # *
Hardware FTA Version: * # * # 2222 # * # *
Secret codes for Xiaomi phones
Access the Google Partner settings: ## 759 ##
Proximity Sensor Test: ## 0588 ##
Turn off and off: ### 61
Phone Lock Status: # 7465625 #
USB registration control: * # 872564 #
Change the behavior of the power button: enable direct shutdown once you try this code: * # * # 7594 # * # *
Network Lock Status: * # 7465625 #
Advanced GPS test: ## 1575 ##
Events calendar: ## 225 ##
System dump mode: * # 9900 #
Calendar: * # * # 225 # * # *
QC Test: * # * # 64663 # * # *
Format your smartphone: * 2767 * 3855 #
Reset device: * # * # 7780 # * # *
Secret codes for OPPO phones
Verify camera information: * # * # 34971539 # * # *
One-touch power off: * # * # 7594 # * # *
Backup your multimedia files: * # * # 273283 * 255 * 663282 * # * # *
Check service activity: * # * # 197328640 # * # *
Show Bluetooth device address: * # * # 232337 # * #
Monitor Google Talk service: * # * # 8255 # * # *
Wireless LAN tests: * # * # 232339 # * # * OR * # * # 526 # * # *
Wifi MAC address: * # * # 232338 # * # *
Check LCD screen: * # * # 0 * # * # *
Other GPS tests: * # * # 1575 # * # *
Packet loopback tests: * # * # 0283 # * # *
PDA firmware information, phone, hardware, RF call date: * # * # 4986 * 2650468 # * # *
To find the FTA Software version: * # * # 1111 # * # *
Audio test: * # * # 0673 # * # * OR * # * # 0289 # * # *
Vibration and backlight tests: * # * # 0842 # * # *
Check the operation of the proximity sensor: * # * # 0588 # * # *
Check the touch screen version: * # * # 2663 # * # *
Check touch screen: * # * # 2664 # * # *
See RAM version: * # * # 3264 # * # *